RESULTS OF THE
GRAZING OCCULTATION OF ZC 35 - 2005 Nov 12
---
This grazing occultation was unusual in that the path ran up the east coast of the country, allowing observers in Dunedin, Christchurch and Wellington to take part. About 15 observers reported some 83 timings (although some of these have subsequently proven to be spurious). Five stations recorded the graze on video. Succesful observers were:

Dunedin:
RP:	Ron Payne,  Taieri Planes Lookout
Christchurch:
MU	Martin Unwin,  Weedons Ross Road 
AD	Andrew Dallow,  Weedons Ross Road 
BH	Barry Hillyard,  Weedons Ross Road 
LF*	Larry Field,  Weedons Ross Road 
LH	Lionel Hussey,  Buchanans Road 
Wellington:
RH*	Rick Hudson, Pukerua Bay, Kotipu Place Obsy
RP	John Priestley + Mary de Raadt, Pukerua Bay
BP	Bill Parkin + Hal Levine, Kapiti Boating Club
MM	Mike McGavin, Kakariki Grove, Waikanae
GE	Glenn Evans + Brenda Johnston, Peka Peka Bch
BB*	Bevan Burgess + Anne Stark, Te Hapua
TB* 	Terry Butt, Te Horo
TM	Tamsyn McClelland,  Otaki Gorge Road
GB*	Graham Blow, Otaki Gorge Rd
* = Video

A number of other observers participated but had problems with cloud or other factors: Bill Allen, Barry Griffiths, Gordon Hudson, George Jones, Graeme McKay, Paul Moss, Noel Munford, Ian Porritt and Ross Skilton.
The plot below shows the predicted profile in green with the observations as plotted by Brian Loader. Solid lines indicate times the star was visible. Graze lines for the different locations are plotted in different colours. Video stations are marked with an asterisk. Most observers are identified by their initials as detailed in the above list.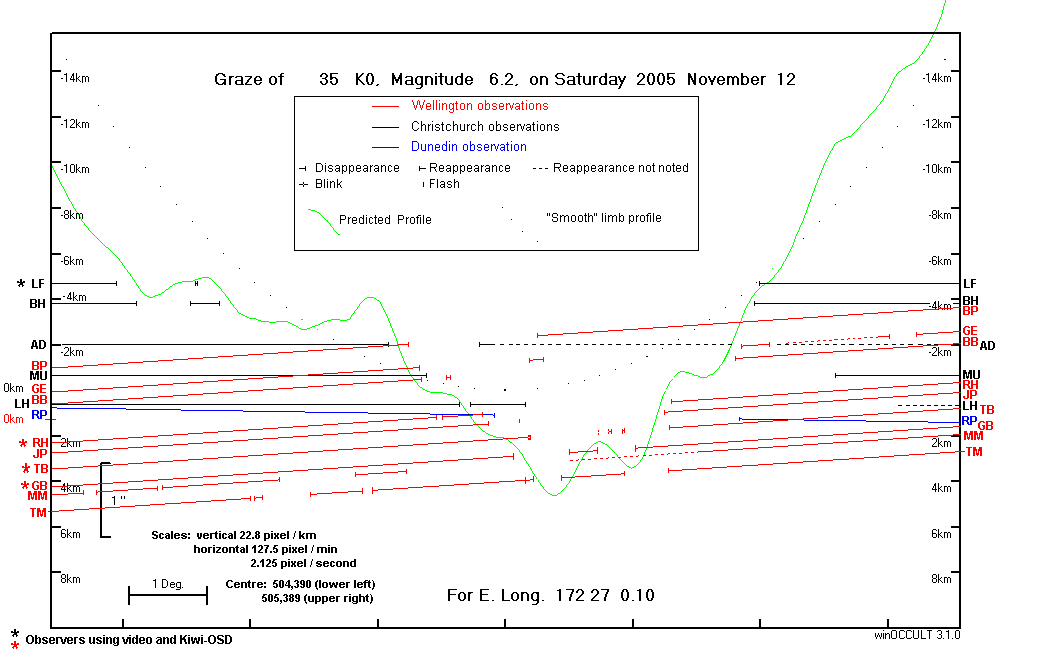 Comments:
This is one of the best-observed grazes in New Zealand for several years, and it is pleasing to see the participation of the five video stations. Data from these stations is largely consistent, although timings from one site do seem somewhat displaced from those expected. Work is being done to see if there was a systematic error in the reporting of times.
As well as yielding significantly more accurate timings the video data also allows a direct comparison to be made with the visual data ó which of course has associated human reaction times. Examining the plotted data shows that while there are some experienced visual observers whose times are remarkably consistent with those of adjacent video sites, itís clear that for the majority of visual observers personal reaction times remain an issue. This underscores the increasing value of new techniques such as video if the accuracy of our results is to be improved.
The time resolution of video (typically 20-40ms) also allows other phenomena to be recorded. Occasionally at grazes visual observers notice events to be gradual as their timescale gets lengthened owing to the shallow angle of incidence of the star to the lunar limb. With a video camera, these gradual events can sometimes be resolved to show the cause of these apparently gradual events to be one or more diffraction fringes. The plots below show a clear diffraction peak in the video data taken at the first D and R timed by Graham Blow: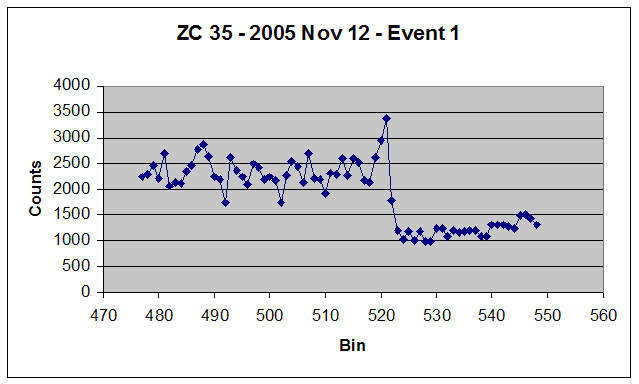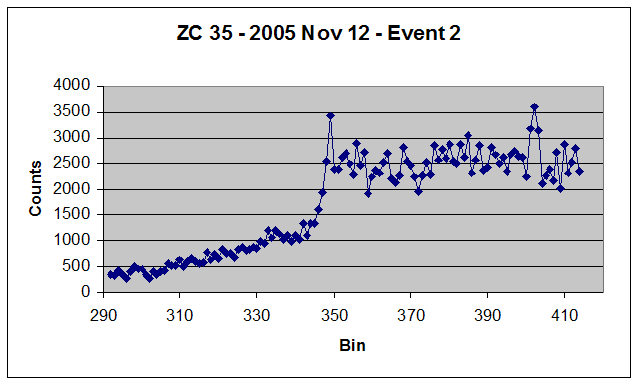 ---
[Site Map]
[What's an Occultation?]
[Total Occultations]
[Grazing Occultations]
[Planetary Occultations]
[Jovian Satellite Eclipses]
[Timing Occultations]
[Reporting Observations]
[Coming Events]
[Software]
[About Us]
[Publications]
[Membership]
[Links]