OCCULTATION OF Regulus (HIP_49669) BY (1669) Dagmar
2015 May 24
---
A 2.0 second occultation was recorded by Paul D. Maley and L.Palmer, E, in Thuwal, Saudi Arabia , using video OSD technique. They were part of an expedition with members from King Abdulaziz University to observe
Four clearly observed misses were recorded for this event, One of which clearly constrains the solution. and Two members of the expedition had equipment problems, One of which may have been in the shadow path.
View the updated prediction.

Observers:
  1(M) S Alyami/A Alharbi,Rabigh,Saudi Arabia
  2(M) S Alsofiani, Yanbu,Saudi Arabia      
  3    P Maley/E Alkhuja,Thuwal,Saudi Arabia
  4(C) H Basurah/R Alsulami, King Abdullah City, Saudi Arabia
  5(C) S Bahamdain/R Alaref, King Abdullah City, Saudi Arabia
  6(M) M.Aldweis, A.Alruhaili,  North Rehaili, Saudi Arabia   
  7(M) A Malawi/A Alshaafi, Jeddah, Saudi Arabia     
  8(P) Predicted Centerline w/Time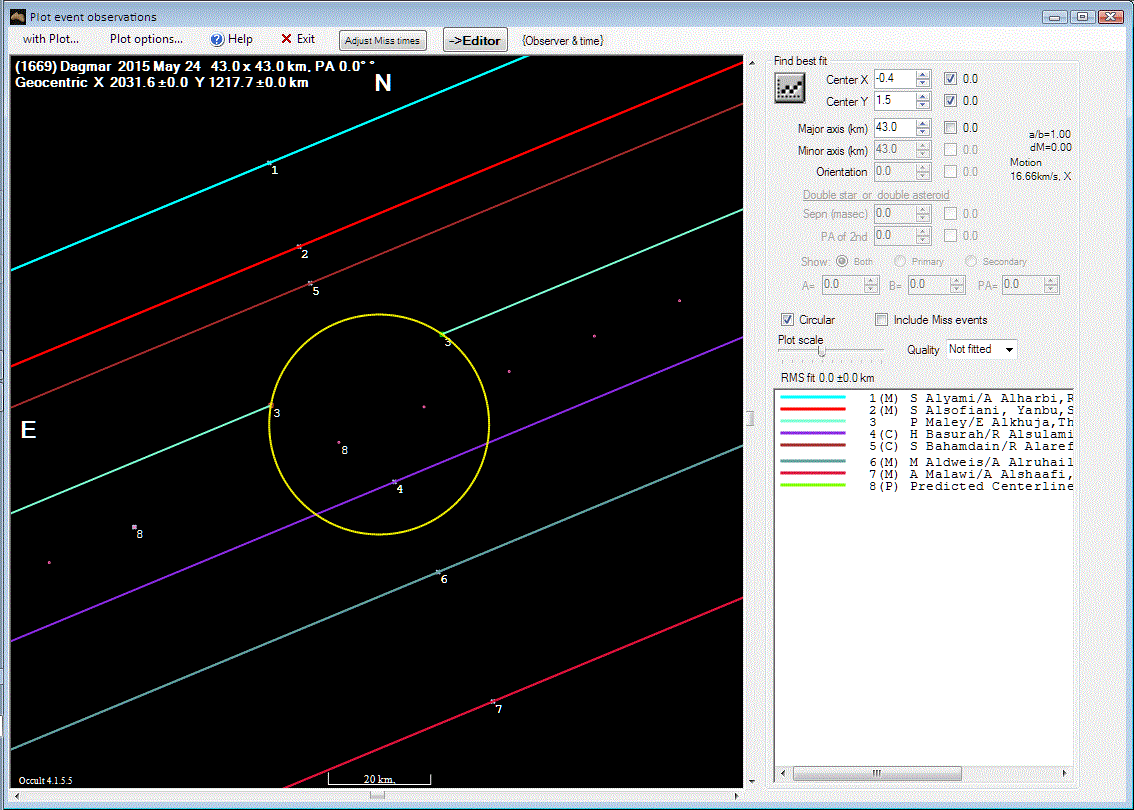 Discussion:
The circle above is plotted at the expected 43 km diameter of Dagmar. With one chord and constraining miss (5), we can be confident of the path of Dagmar and that it was very close to the predicted line (8), dotted.
The figure below shows the Limovie light curve of Paul's occultation.
Observational Data:


Observation details for MP ( 1669 ) Dagmar
By Star              Regulus HIP 49669
On 2015-05-24  at 16:46:41.0

_______________________________

Observer   Paul D. Maley, L.Palmer, E. 
Location   Thuwal, Saudi Arabia
Longitude   +39:09
Latitude   +22:18
Altitude   18 m
Datum      WGS84
Telescope SCT including Cass and Mak
Aperture    5 cm
Seeing     Steady Clear 
Camera Type  PC164C         NTSC/EIA      
Camera Delay 
Timing     GPS - time inserted Video with frame analysis
Disappearance  16:46:42.48
Reappearance   16:46:44.49
Comments: Only got on star about 30 seconds prior to the event. 
Sky had a lot of dust in the air which did not impact observation due to bright star and high elevation  

_______________________________

Observer   S.Alyami, A.Alharbi
Location   Rabigh, Saudi Arabia
Longitude   +39:05
Latitude   +22:48
Altitude   17 m
Datum      WGS84
Telescope SCT including Cass and Mak
Aperture    5 cm
Seeing     Steady Clear 
Camera Type  PC164C         NTSC/EIA      
Camera Delay 
Timing     GPS - time inserted Video with frame analysis

Missed

Comments:   

_______________________________

Observer   S.Bahamdain, R.Alaref
Location   King Abdullah City, Saudi Arabia
Longitude   +39:10
Latitude   +22:30
Altitude   17 m
Datum      WGS84
Telescope Refractor
Aperture    5 cm
Seeing     Steady Clear 
Camera Type  PC164C         NTSC/EIA      
Camera Delay 
Timing     GPS - time inserted Video with frame analysis

Missed - No Observation
Comments:   

_______________________________

Observer   H.Basurah, R.Alsulami
Location   King Abdullah City, Saudi Arabia
Longitude   +39:07
Latitude   +22:05
Altitude   17 m
Datum      WGS84
Telescope Refractor
Aperture    5 cm
Seeing     Steady Clear 
Camera Type  PC164C         NTSC/EIA      
Camera Delay 
Timing     GPS - time inserted Video with frame analysis

Missed - No Observation


Comments:   

_______________________________

Observer   M.Aldweis, A.Alruhaili
Location   North Rehaili, Saudi Arabia
Longitude   +39:11
Latitude   +21:50
Altitude   17 m
Datum      WGS84
Telescope SCT including Cass and Mak
Aperture    5 cm
Seeing     Steady Clear 
Camera Type  PC164C         NTSC/EIA      
Camera Delay 
Timing     GPS - time inserted Video with frame analysis

Missed

Comments:   

_______________________________

Observer   A.Malawi, A. Alshaafi
Location   Jeddah, Saudi Arabia
Longitude   +39:15
Latitude   +21:31
Altitude   17 m
Datum      WGS84
Telescope SCT including Cass and Mak
Aperture    5 cm
Seeing     Steady Clear 
Camera Type  PC164C         NTSC/EIA      
Camera Delay 
Timing     GPS - time inserted Video with frame analysis

Missed

Comments:   


        
Return to 2015 occultation results
---
[Site Map]
[What's an Occultation?]
[Total Occultations]
[Grazing Occultations]
[Planetary Occultations]
[Jovian Satellite Eclipses]
[Timing Occultations]
[Reporting Observations]
[Coming Events]
[Software]
[About Us]
[Publications]
[Membership]
[Links]
[Top of Page]
[Return to Home Page]