OCCULTATION OF TYC 5641-00491-1 BY 191 Kolga
2015 August 2
---
A 6.5 second occultation was recorded by Richard Williamson at Alice Springs in the Northern Territory, using an unattended video recording setup.
View the IOTA update..

Observers:
  1    R Williamson,Connellon, NT, Australia
  2(P) Prediction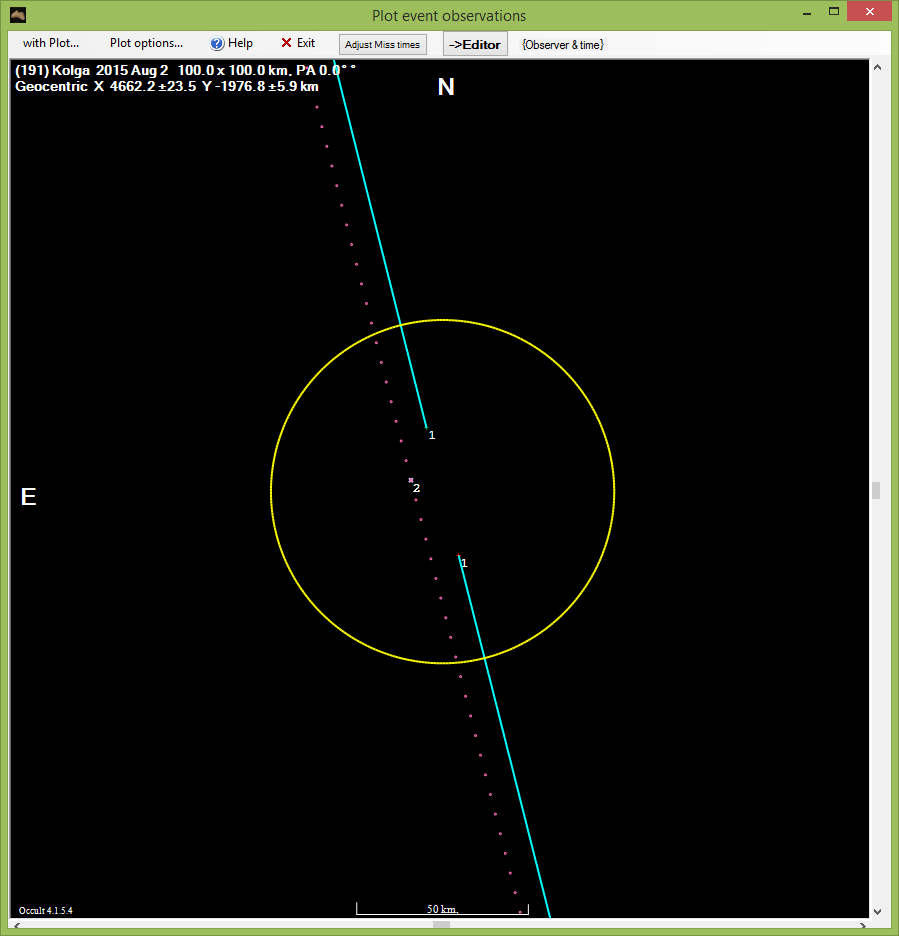 Discussion:
The circle above is plotted at the expected 100 km diameter of Kolga. With only one chord it is not possible to determine whether Richard was east or west of the central line of the event. the circle has been plotted on the observed chord .
Observational Data:

Observation details for MP ( 191 ) Kolga
By Star              TYC 5642-00491-1 
On 2015-08-02  at 14:50:36.0

_______________________________

Observer   Richard Williamson
Location   Connellon, NT, Australia
Longitude  +133:54
Latitude   -23:46
Altitude   550 m
Datum      WGS84
Telescope SCT including Cass and Mak
Aperture   20 cm
Seeing     Steady Clear 
Camera Type  Watec 120N+    PAL/CCIR      
Camera Delay 
Timing     GPS - time inserted Visual, no PE applied
Disappearance  14:50:33.00
Reappearance   14:50:39.50
Comments: No integration was used. The times are estimates from the observer's recollection after playing back the tape a few times.

 Pre-pointed before the occultation and left recording; Richard went to a 2nd location about 20 km away, but equipment problems prevented observation. 

 Sadly, on Aug. 19 some total lunar occultations were recorded inadvertantly over the Kolga occ'n recording before it could be retrieved for analysis. 

        
Return to 2015 occultation results
---
[Site Map]
[What's an Occultation?]
[Total Occultations]
[Grazing Occultations]
[Planetary Occultations]
[Jovian Satellite Eclipses]
[Timing Occultations]
[Reporting Observations]
[Coming Events]
[Software]
[About Us]
[Publications]
[Membership]
[Links]
[Top of Page]
[Return to Home Page]