OCCULTATION OF UCAC4 406-141283 BY 334 Chicago
2015 Dec 7
---
Jonathan Bradshaw observed this occultation with severe cloud interference. He was only able to detect the reappearance with the disappearance occuring while the field was obscured. To the south, John Broughton operated two stations with both reporting misses.
View the Prediction.

Observers:
  1(M) J Broughton,Reedy Creek, QLD, AU     
  2(M) J Broughton,Newrybar, NSW, AU        
  3    J Bradshaw,Samford Valley, Qld, Australia
  4(P) Prediction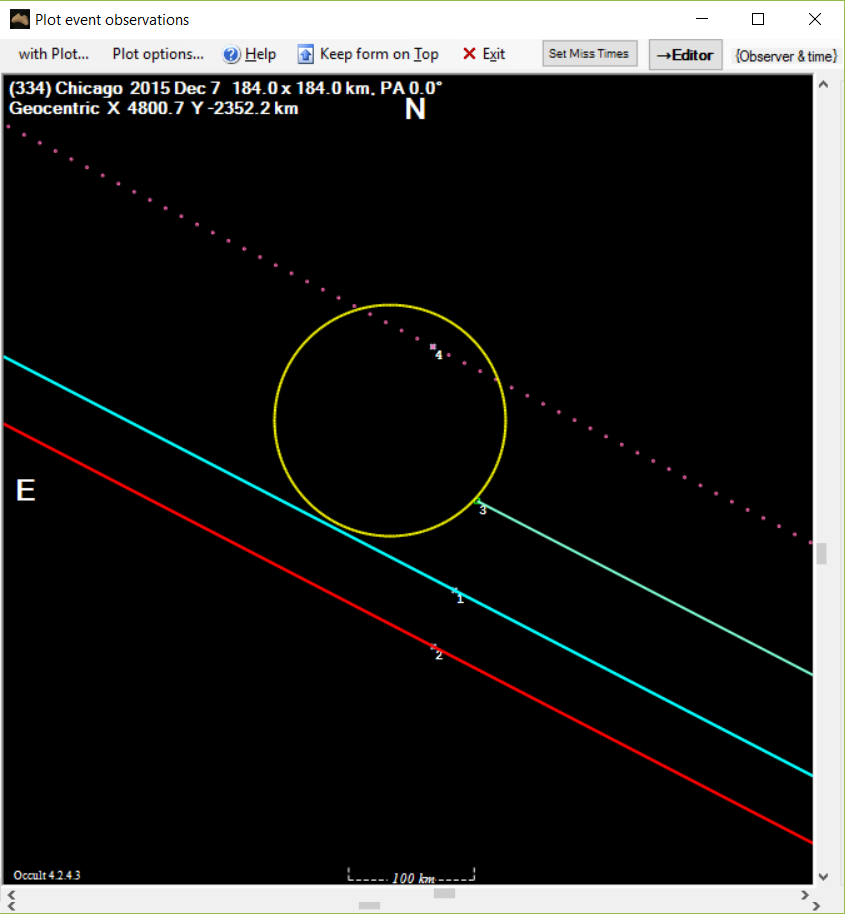 Discussion:
The proximity of John Broughton's negative observations strongly constrains Johnathan's observation to the southern side of the path but little else can be determined. Below is Johnathan's lightcurve.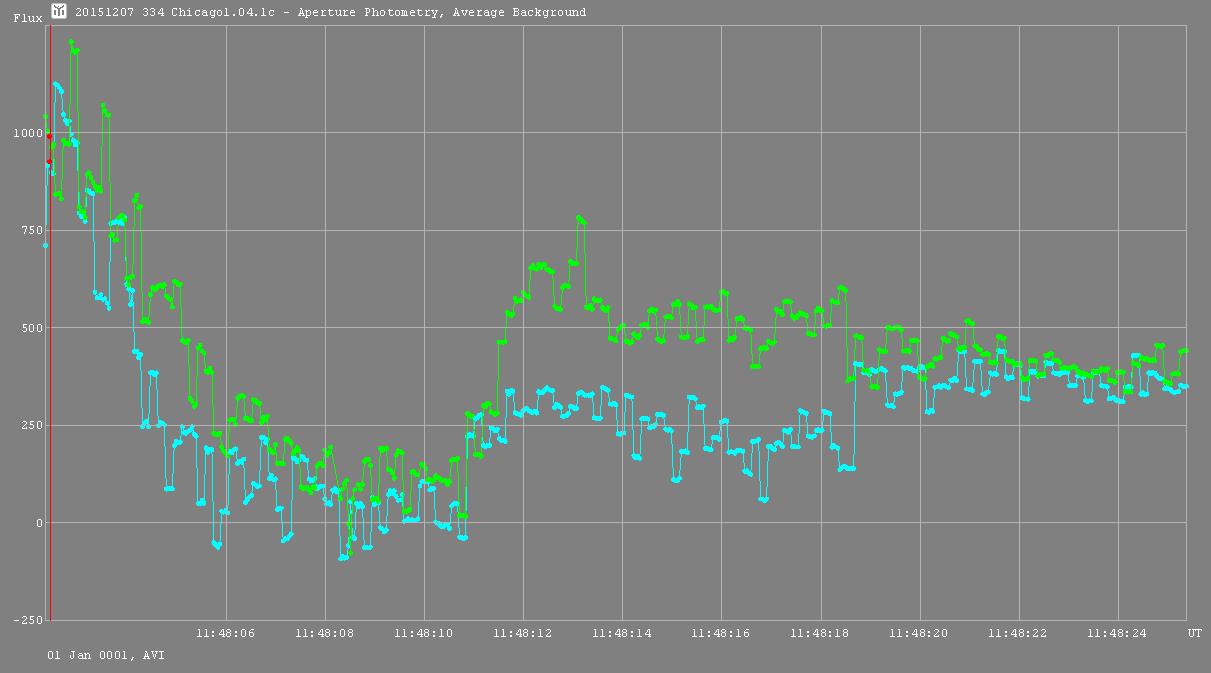 Observational Data:

Observation details for MP ( 334 ) Chicago
By Star              UCAC4 406-141283
On 2015-12-07  at 11:48:17.0

_______________________________

Observer   John Broughton
Location   Reedy Creek, QLD, AU
Longitude  +153:23
Latitude   -28:06
Altitude   66 m
Datum      WGS84
Telescope SCT including Cass and Mak
Aperture   25 cm
Seeing     Steady Clear 
Camera Type  Watec 120N+    PAL/CCIR      
Camera Delay 
Timing     GPS - other linking Video with frame analysis

Missed

Comments:   

_______________________________

Observer   John Broughton
Location   Newrybar, NSW, AU
Longitude  +153:31
Latitude   -28:43
Altitude   22 m
Datum      WGS84
Telescope Newtonian
Aperture   32 cm
Seeing     Steady Clear 
Camera Type  Watec 120N+    PAL/CCIR      
Camera Delay 
Timing     GPS - time inserted Video with frame analysis

Missed

Comments:   

_______________________________

Observer   Jonathan Bradshaw
Location   Samford Valley, Qld, Australia
Longitude  +152:50
Latitude   -27:22
Altitude   80 m
Datum      WGS84
Telescope SCT including Cass and Mak
Aperture   36 cm
Seeing     Slight flickering Broken cloud 
Camera Type  Watec 910BD    NTSC/EIA      
Camera Delay 
Timing     GPS - time inserted Video with frame analysis
Disappearance  11:48:11.45 (Removed in analaysis)
Reappearance   11:48:18.65
Comments: The R a little more certain All in all a marginal result in difficult conditions 


        
Return to 2015 occultation results
---
[Site Map]
[What's an Occultation?]
[Total Occultations]
[Grazing Occultations]
[Planetary Occultations]
[Jovian Satellite Eclipses]
[Timing Occultations]
[Reporting Observations]
[Coming Events]
[Software]
[About Us]
[Publications]
[Membership]
[Links]
[Top of Page]
[Return to Home Page]