OCCULTATION OF TYC 1368-01514-1 BY 88 Thisbe
2016 Jan 21
---
John Broughton operated three stations from his home at Reedy Creek on the Gold Coast, Queensland and two locations in northern New South Wales. All sites recorded occultations ranging form 13.4 seconds up to 15.7 seconds. No other reports were received.
View the IOTA update.

Observers:
  1    J Broughton,Reedy creek, QLD, AU     
  2    J Broughton,Brunswick Heads, NSW, AU 
  3    J Broughton,Pimlico, NSW, AU         
  4(P) Prediction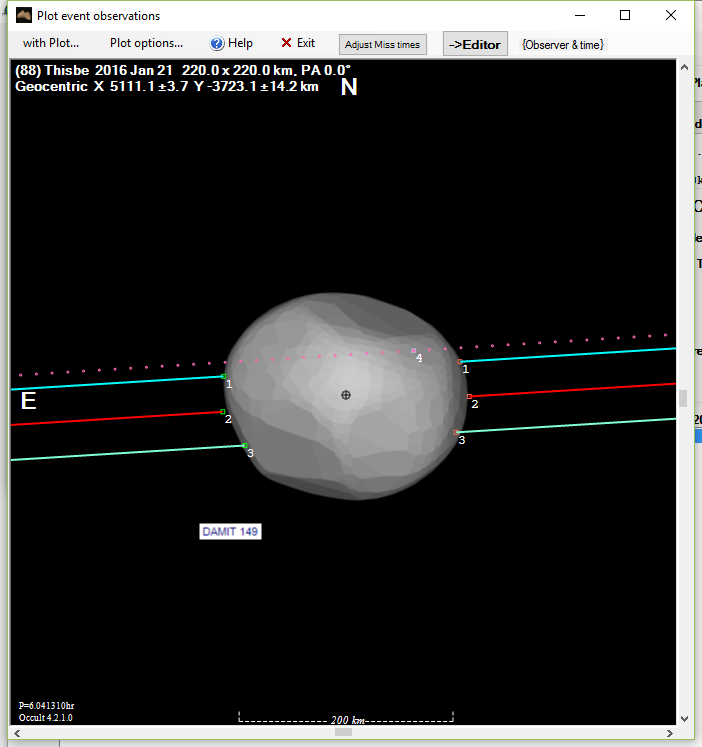 Discussion:
This was a very precise - Rank 100 - prediction and John had positioned his stations across the southern part of the predicted path. It would appear however, that the path shifted south slightly and John's three stations have covered the central part of the outline of (88) Thisbe. There is a single shape model for (88) Thisbe in the DAMIT archive and two in the ISAM archive. All of them present (88) Thisbe as having relatively 'square' outlines which produce the surprisingly small variation in occultation chord lenght for central chords. The DAMIT model is shown above.
Observational Data:

Observation details for MP ( 88 ) Thisbe
By Star              TYC 1360-01514-1 
On 2016-01-21  at 17:24:04.0

_______________________________

Observer   John Broughton
Location   Reedy creek, QLD, AU
Longitude  +153:23
Latitude   -28:06
Altitude   63 m
Datum      WGS84
Telescope Newtonian
Aperture   25 cm
Seeing     Steady Clear 
Camera Type  LN-300-11673   PAL/CCIR      
Camera Delay 
Timing     GPS - other linking Video with frame analysis
Disappearance  17:24:00.52
Reappearance   17:24:15.56
Comments:   

_______________________________

Observer   John Broughton
Location   Brunswick Heads, NSW, AU
Longitude  +153:32
Latitude   -28:32
Altitude   10 m
Datum      WGS84
Telescope Newtonian
Aperture   25 cm
Seeing     Steady Clear 
Camera Type  LN-300-11673   PAL/CCIR      
Camera Delay 
Timing     GPS - other linking Video with frame analysis
Disappearance  17:24:00.89
Reappearance   17:24:16.57
Comments:   

_______________________________

Observer   John Broughton
Location   Pimlico, NSW, AU
Longitude  +153:29
Latitude   -28:54
Altitude   11 m
Datum      WGS84
Telescope Newtonian
Aperture   32 cm
Seeing     Steady Thin cloud less than 2 
Camera Type  Watec 120N+    PAL/CCIR      
Camera Delay 
Timing     GPS - time inserted Video with frame analysis
Disappearance  17:24:03.04
Reappearance   17:24:16.48
Comments: 16-frame integration was necessary to penetrate cirrus at the low altitude of 12.6 degrees   


        
Return to 2016 occultation results
---
[Site Map]
[What's an Occultation?]
[Total Occultations]
[Grazing Occultations]
[Planetary Occultations]
[Jovian Satellite Eclipses]
[Timing Occultations]
[Reporting Observations]
[Coming Events]
[Software]
[About Us]
[Publications]
[Membership]
[Links]
[Top of Page]
[Return to Home Page]