OCCULTATION OF TYC 0579-00656-1 BY 904 Rockefellia
2016 April 25
---
Dave Herald recorded a very brief 0.76 second occultation from Murrumbateman, NSW while John Newman observed a 1.4 second occultation from Flynn in the ACT. Further afield, miss observations were reported by Tony Barry and Dave Gault from the Sydney/Blue Mountains area.
View the IOTA update.

Observers:
  1(M) T Barry,Werrington Downs             
  2(M) D Gault,Hawkesbury Heights, NSW, AU  
  3    D Herald,Murrumbateman               
  4    J Newman,Flynn, ACT, AU              
  5(P) Prediction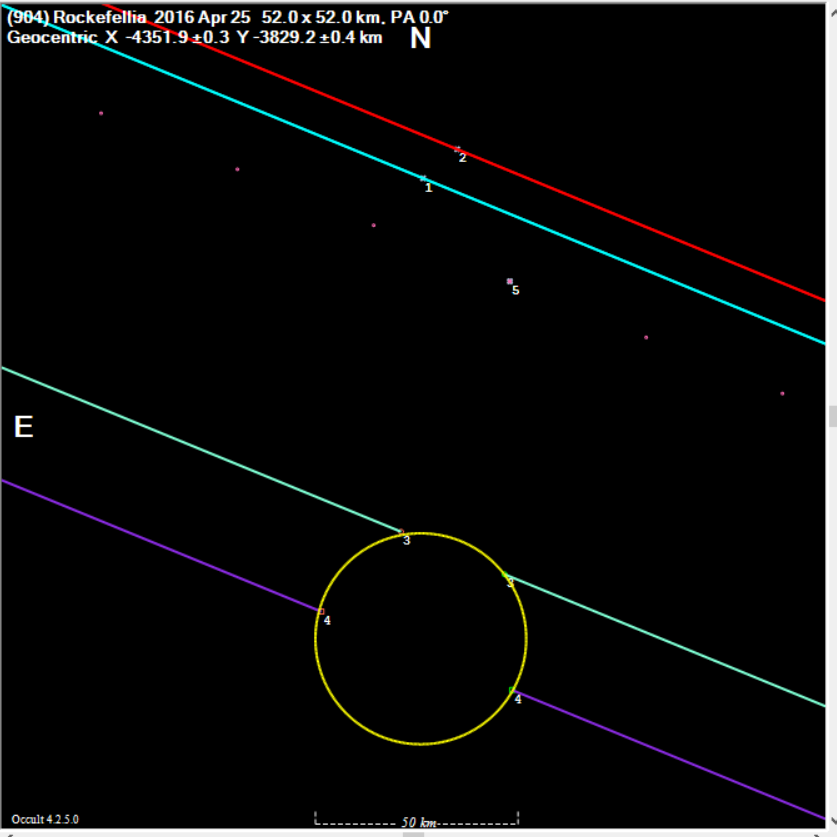 Discussion:
The circle above is plotted at the expected 52 km diameter of Rockefellia. While a circular outline is not quite a perfect fit to Dave and John's observations, it is a reasonably close approximation.
The figure below shows the Tangra light curve of John's observation.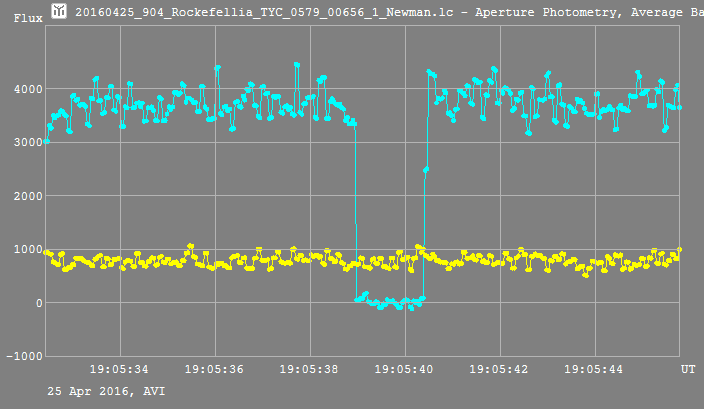 The figure below shows the AOTA light curve of Dave's observation.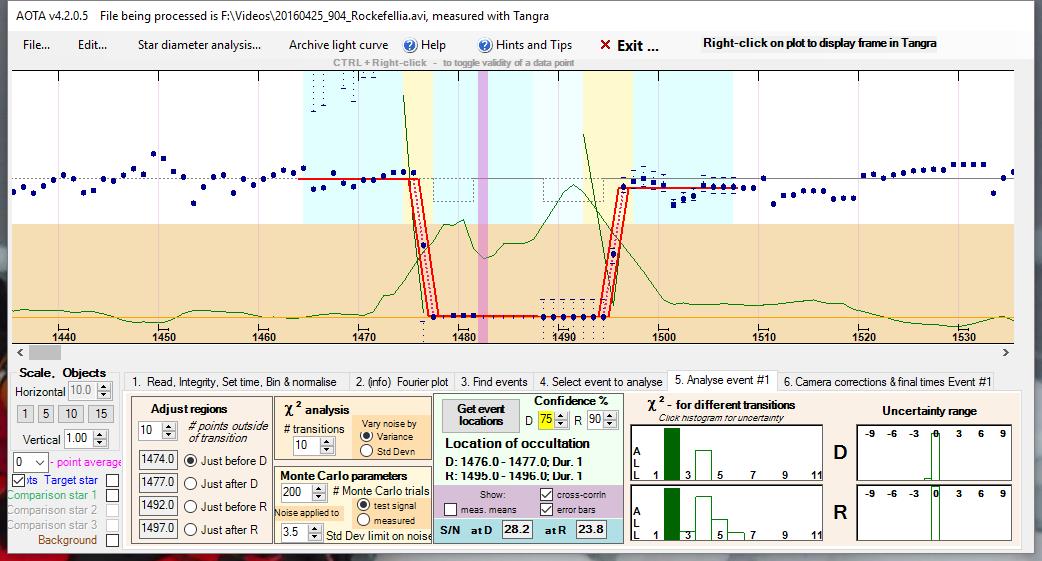 Observational Data:

Observation details for MP ( 904 ) Rockefellia
By Star              TYC 0579-00656-1 
On 2016-04-25  at 19:05:40.0

_______________________________

Observer   Tony Barry
Location   Werrington Downs
Longitude  +150:43
Latitude   -33:44
Altitude   66 m
Datum      WGS84
Telescope SCT including Cass and Mak
Aperture   25 cm
Seeing       dew
Camera Type  Flea 3-03S3 with ADVS        ADVS          
Camera Delay 
Timing     GPS - time inserted Video, photo or photoelectric

Missed

Comments:   Report prepopulated by IOTA Reporting Add-in for OW ver.1.8

_______________________________

Observer   Dave Gault
Location   Hawkesbury Heights, NSW, AU
Longitude  +150:38
Latitude   -33:39
Altitude   286 m
Datum      WGS84
Telescope SCT including Cass and Mak
Aperture   30 cm
Seeing     Steady Clear 
Camera Type  Flea 3-03S1 with ADVS        ADVS          
Camera Delay 
Timing     GPS - time inserted Video with frame analysis

Missed

Comments:    

_______________________________

Observer   Dave Herald
Location   Murrumbateman
Longitude  +148:59
Latitude   -34:57
Altitude   594 m
Datum      WGS84
Telescope SCT including Cass and Mak
Aperture   40 cm
Seeing     Steady Clear 
Camera Type  Watec 910BD    PAL/CCIR      
Camera Delay 
Timing     GPS - time inserted Video, photo or photoelectric
Disappearance  19:05:39.06
Reappearance   19:05:39.82
Comments: A very clean occultation  Report prepopulated by IOTA Reporting Add-in for OW ver.1.8

_______________________________

Observer   John Newman
Location   Flynn, ACT, AU
Longitude  +149:02
Latitude   -35:11
Altitude   657 m
Datum      WGS84
Telescope other - specify below
Aperture   41 cm
Seeing     Steady Clear 
Camera Type  Watec 910BD    PAL/CCIR      
Camera Delay 
Timing     GPS - time inserted Video with frame analysis
Disappearance  19:05:38.93
Reappearance   19:05:40.33
Comments: Been a longtime tween drinks  Report prepopulated by IOTA Reporting Add-in for OW ver.1.8

        
Return to 2016 occultation results
---
[Site Map]
[What's an Occultation?]
[Total Occultations]
[Grazing Occultations]
[Planetary Occultations]
[Jovian Satellite Eclipses]
[Timing Occultations]
[Reporting Observations]
[Coming Events]
[Software]
[About Us]
[Publications]
[Membership]
[Links]
[Top of Page]
[Return to Home Page]