ON THIS SITE:
2018:
2017:
---
PUBLICATIONS & MEMBERSHIP:
---
LUNAR OCCULTATIONS:
---
PLANETARY OCCULTATIONS:
ANNUAL PREDICTIONS:
OUR SUCCESSES:
23 for year 2007, 47 for year 2008;
46 for 2009; 50 for 2010; 51 for 2011;
52 for 2012; 56 for 2013; 58 for 2014
48 for 2015.
LATEST Positives:
2016
Results from previous years
CURRENT PATH UPDATES:
REPORT FORMS:
---
USING VIDEO TO TIME OCCULTATIONS:
---
USING CCDs TO TIME OCCULTATIONS:
---
OCCULTATION SOFTWARE:
---
GENERAL OCCULTATION INFO:
---
Weather Forecasts
Site Map
About Us
Publications
Membership
Links
The Occultation Section
of the Royal Astronomical Society of New Zealand
welcomes you to its Web site.
---
TTSO12 - The Twelfth Trans-Tasman Symposium on Occultations
Ballarat Observatory, Ballarat , Australia - 2 April 2018
---
Occultations occur when one celestial body passes in front of another.
These frequent and intriguing events are fun to watch, and provide an important way for amateur astronomers to make significant discoveries about objects within our own Solar System as well as the stars beyond.
This website exists to promote and encourage occultation
observing in New Zealand, Australia and the South Pacific.
On this site you will find information about different sorts of occultations, and how to contribute useful scientific results by observing occultations.
The site contains all the background information needed by someone new to occultation observing. It also provides more technical information of use to advanced observers.
To contact us click here
The RASNZ Occultation Section is also proud to represent the interests of the International Occultation Timing Association (IOTA) in the Australasian region.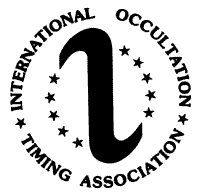 ---
Click to subscribe to the following Yahoo! discussion groups:

RASNZ Occultations Group
IOTA Occultations Group
OCCULT Software Group
OccultWatcher Software Group
---
Visitors to our site have come from....
Our website is continually evolving. Please give us feedback
on its current contents and layout, and about any new features or links
you think might be useful.