BRIGHT GRAZING OCCULTATIONS: NEW ZEALAND 2015
---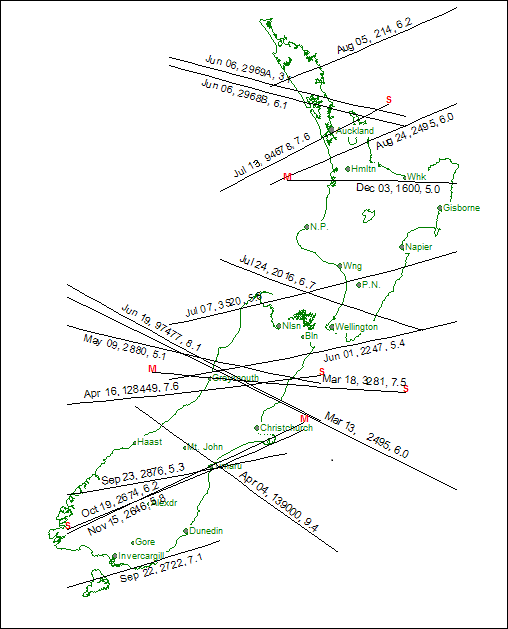 Charts prepared using data from David Herald's OCCULT 4.1 and a mapping program written by Pauline Loader.
Note:

'S' at the end of a track indicates interference from the Sun
'M' indicates that the moon is at low altitude
'B' indicates the occultation occurs at the bright limb
Table of grazes.
EXPLANATION OF THE TABLE
Date :

Universal Time (UT). UT is effectively equivalent to Greenwich Mean Time. In New Zealand, add 12 hours to UT to get NZ Standard Time, or add 13 hours to get NZ Daylight Time.

Star :

ZC indicates the star number in Robertson's Zodiacal Catalog.
S indicates the star number in the SAO Catalog.

Mag :

Star Magnitude.

%Snlt :

Percent sunlit of the moon. "+" is waxing (before Full Moon) and "-" waning. Before Full Moon the star will appear to approach the moon from its dark side. After Full Moon the star appears to approach across the lighted lunar limb.
During an eclipse E shows the illumination

Near Place ... :

Lists some cities or towns close to the path, but not usually on it. Click on them to bring up WIN OCCULT predictions and a profile for this graze.

Time :

Approximate hour and minute of graze (Universal Time). For sites to the west times may be a minute or so earlier whilst to the east they may be a little later. Events may occur for a minute or two either side of the predicted time.

Alt :

Altitude of the star and Moon.

CA & Limit :

The Limit indicates whether the star grazes the Northern or Southern edge of the Moon. The associated figure shows the number of degrees round the circumference of the Moon from the bright cusp at which mid graze occurs. The centres of all grazes are on the unlit portion of the limb unless otherwise indicated by a - CA value.
During an eclipse the percentage distance from the centre of the umbra is shown, followed by U

Notes :

This gives further information about the graze and star. Most grazes should be observable with a telescope aperture of 100mm. If a larger aperture is likely to be needed this is indicated.
Double star information is contained in the prediction files.
If you need help consult the following: [Planning A Graze] [Observing A Graze] [Graze Report Form]
Grazes for New Zealand during 2015
All Graze Data and Profiles obtained from David Herald's Occult 4.1
A brief total eclipse of the moon occurs on April 4. One graze during the eclipse is shown.
There are more of fainter stars, observers should consult Occult for local predictions
(Graze Data obtained from David Herald's Occult 4.0).
[Site Map]
[What's an Occultation?]
[Total Occultations]
[Grazing Occultations]
[Planetary Occultations]
[Jovian Satellite Eclipses]
[Timing Occultations]
[Reporting Observations]
[Coming Events]
[Software]
[About Us]
[Publications]
[Membership]
[Links]